FCN MoneyCoach Release Notes April 2022
Apr 30, 2022
The following release notes relate to:
Version: 3. 0. 15 20220422
SDK Version: 2. 0
Goals – Link Any Account to a Goal
You can now link Properties and Manual Accounts to a goal. The process is exactly the same as if linking a Financial Account to a goal.
This great new feature means that any asset or liability within a client's MoneyCoach account can be incorporated in their goal projections and tracking.
When linking a financial account to a goal, you will now automatically have the option to link Properties and Manual Accounts from the drop-down list when you select 'Link Financial Account'.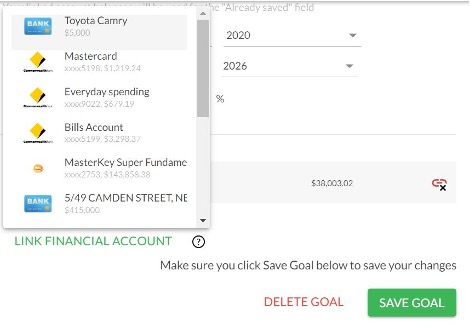 Budget – Creation and Editing Restrictions Removed
Up until now, it was only possible to create and/or edit a budget where the client had linked an account and at least one transaction was flowing through. We have removed this restriction and budgets for Cash Flow Pro users can be created as soon as the client has 'registered' their MoneyCoach account.
Rules – Search Issue Fixed
It was recently reported that when searching in the 'Rules' page, that the search function intermittently did not work. We have added some conditions to the rules search and this issue has now been fixed.

USA Localisation – Date and Timezone Issues Resolved
As Moneysoft expands internationally and a number of businesses now using Moneysoft outside Australia, we have addressed a number of 'Localisation' issues where features and functions within the software were reverting to AUS time.
These functions, including transaction dates, reporting dates and goal start / end dates, will now be displayed and shown in the relevant users local time, regardless of which Country and time zone they login into their account.
Performance – Adviser Portal Speed Improvements
As part of our ongoing efforts to improve user experience, we have put in place real-time application performance monitoring systems. This has already helped us identify some major performance improvements, starting with the Adviser Portal.
In this release, the time it takes to retrieve the full list of Clients when an Adviser or Admin user logs in has been reduced by over 90%. Where this previously could take minutes, the time is reduced to just a few seconds. This change should result in general performance improvements across the board as well. There will be more to come in future releases!
Other Fixes and Enhancements
A number of other fixes and enhancements that have been included in the latest software release including those listed below – if you would like more detail on any of these, please get in touch with MoneyCoach Support or your Account Manager:
For Manual Accounts, to more accurately describe when the balance was last updated the text description in the relevant field was changed.
Corrected an issue where if users 'bulk' re-categorized transactions to the category 'Uncategorized' the transactions were still being shown as 'Unverified'.