FCN MoneyCoach Release Notes February/March 2023
Mar 31, 2023
The following release notes relate to:
Version: 3.0.20.20230310 and
SDK Version: 3.0.20 20230310
Full Balance History for Other accounts and Manual CSV Upload accounts
It is now possible to manually enter and report on historical balances for Manual Data Account and Other Accounts (of any type). The manually entered historical balances will take effect in the Net Worth Report, Account Balance Report and in Goals respectively. This is a very handy feature enhancement for manually maintained accounts and will allow you to create much more accurate reports for your clients. You can do this by editing the Settings for any Manual Data or Other account, then setting the Account Balance or Current Value to the desired amount, selecting the date you want that balance or value to take effect and clicking Save.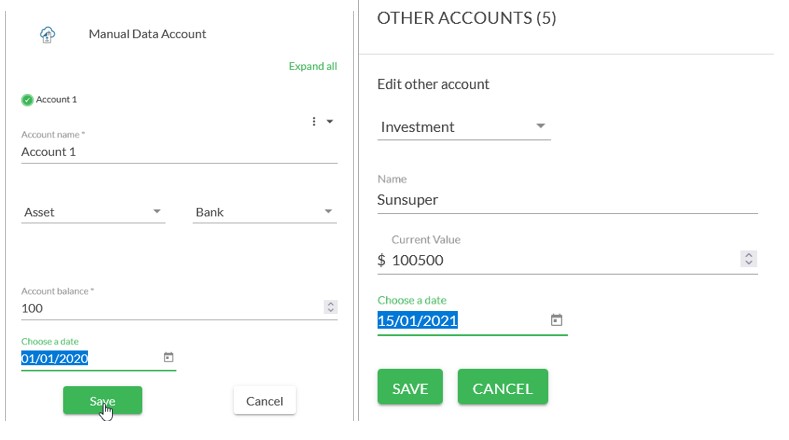 Client and Adviser registration embed code (HTML)
We now support HTML code that can be embedded in your own company website, allowing both Clients and Advisers to register directly within your private MoneyCoach Business Account. This allows you to provide a nice-looking form within your own web pages for clients to register for your MoneyCoach-backed services, instead of you having to manually send an invitation, client-by-client.
In other words, you can create your very own version of the sign-up form below, for clients AND advisers/coaches: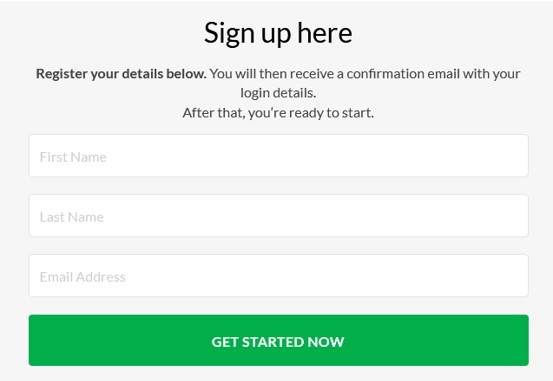 If you would like to know how to take advantage of this feature, please contact [email protected].
Click to View/Impersonate
It's a small change in the greater scheme of things but it will make your life so much better! It is now possible to view/impersonate clients by clicking the client name (when viewing clients in List View mode).

Documents Accessibility
We have made the Your Documents feature much more accessible and prominent in the main client Dashboard. Previously this tile was right at the bottom of all reports on the Dashboard, however it is one of the most commonly-used functions in the software. The Documents feature is still also accessible through the My Account section, but is not much easier to find directly on the Dashboard.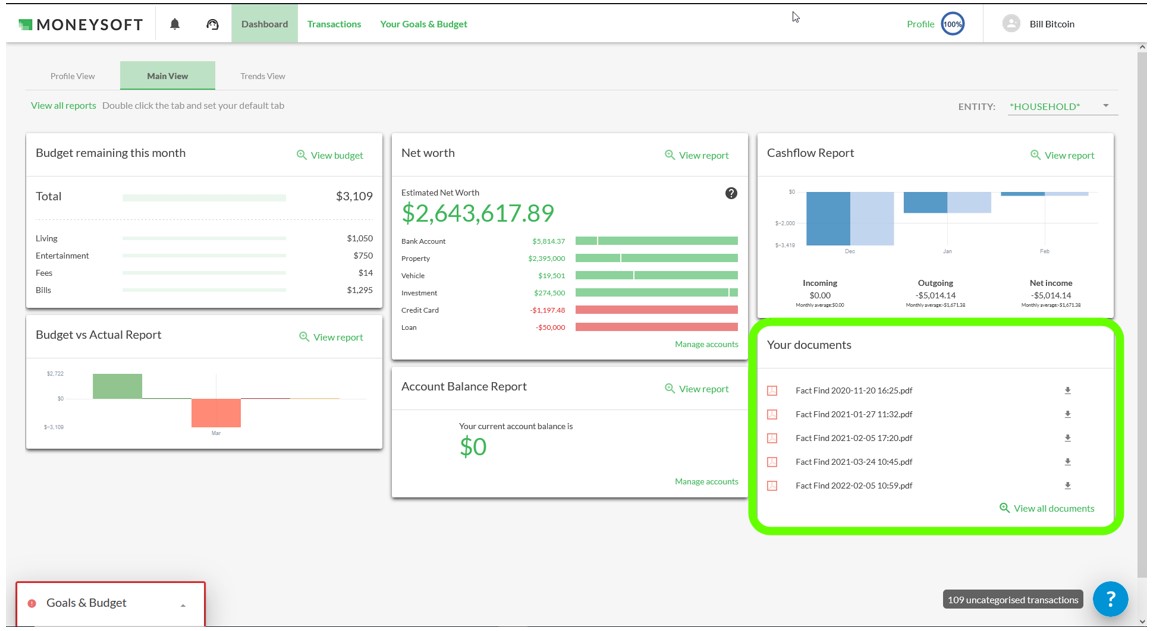 Scheduled Reporting with Household Members
Some maintenance was carried out on the Scheduled Reporting system, specifically in relation to handling of Household Members.
According to MoneyCoach's design, scheduled reports will only be sent to the Primary account holder, scheduled reports are not sent to Household Members (of course the Primary user can always share any reports they receive with household and family members).
If you would like to take advantage of our free report scheduling ("batch reporting") capability, or if you'd like to explore the possibility or your own custom-developed report, you can request this by contacting [email protected].
Other Fixes and Enhancements
A list of other fixes and enhancements that have also been included in the latest software release are included below – if you would like more detail on any of these, please get in touch with MoneyCoach Support or your Account Manager:
Enhancement: Added the ability to recategorize multiple transactions when viewing transactions in the Transaction Notes section.
Bug: "Cannot create a goal if Description text is too long" – the goal creation and editing process was updated to resolve this issue.
Bug: "Changes to the budget not saving" – in some cases, especially for new clients, changes to the budget were not taking effect properly. This issue has been resolved and the budget roll-back feature has been enhanced as a result.
Bug: "Closed accounts sometimes reactivating" – a hangover from the recent upgrade in preparation for Open Banking. This issue has been resolved and accounts marked as 'Closed' should no longer reactivate.
Bug: "Enable Scheduled Reports button switching off automatically" – Fixed.
Bug: "No error displayed when CVS upload fails" – Fixed.
Performance: Major performance improvements were made to the Budget vs. Actual Report generation time.